Slovensko upútalo v Čiernej Hore pozornosť médií
Slovenský projekt "Čierna Hora na ceste do euroatlantickej rodiny" vyvolal v mladej balkánskej krajine neočakávaný záujem. Skromná informačná kampaň, ktorej cieľom bolo prostredníctvom série diskusií …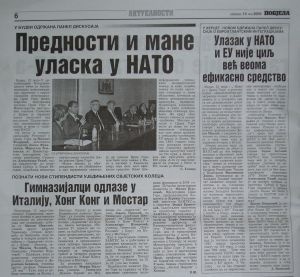 BRATISLAVA 4. júna (WN/PR) – Slovenský projekt "Čierna Hora na ceste do euroatlantickej rodiny" vyvolal v mladej balkánskej krajine neočakávaný záujem. Skromná informačná kampaň, ktorej cieľom bolo prostredníctvom série diskusií s občanmi a predstaviteľmi miestnych zastupiteľstiev v čiernohorských regiónoch vysvetľovať výhody a nevýhody členstva v EÚ a NATO, na seba strhla pozornosť médií.
Množstvo článkov v tlači, reportáže vo večerných spravodajských reláciách a zaradenie témy v hlavnej diskusnej relácii verejnoprávnej televízie prekvapili aj organizátorov projektu. Miroslav Wlachovský z Ministerstva zahraničných vecí SR si to vysvetľuje viacerými faktormi: "Po dosiahnutí nezávislosti a vstupe dvoch susedov – Chorvátska a Albánska sa vstup do NATO a zaistenie vlastnej bezpečnosti stáva v ČH atraktívnou témou. Zloženie tímu v podobe – predstavitelia Čiernej Hory, Slováci deliaci sa o skúsenosti novej členskej krajiny a vždy nejaký veľvyslanec ČK NATO v ČH, vytváralo predpoklady pre zaujímavú, dynamickú a obsahom naplnenú diskusiu. Myslím, že atraktívnosť pre média zo slovenského tímu priniesol veľvyslanec František Lipka, ktorý hovorí miestnym jazykom a ľudia si ho pamätajú z obdobia referenda o nezávislosti."
Dôvodom neočakávaného záujmu je podľa Slovenskej atlantickej komisie aj zameranie sa na konkrétne otázky súvisiace s členstvom v integračných zoskupeniach, namiesto opakovania faktografických informácií. Na podporu tohto úsilia bola pripravená brožúra, ktorej obsahom sú odpovede na desať mýtov, ktoré sa z dôvodu nedostatku informácií udomácnili vo vnímaní verejnosti. Podľa Tomáša Sivičeka, zo Slovenskej atlantickej komisie, bolo cieľom "začať intenzívnu otvorenú diskusiu s verejnosťou na témy, ktoré sa dotýkajú budúceho vývoja ich krajiny, dať možnosť klásť otázky priamo ich zástupcom a vládnym predstaviteľom," pričom dodal, že to bol "silný signál, že vláda chce svojim občanom načúvať a viesť s nimi otvorený dialóg."
Slovenského novinára Júliusa Lörincza, ktorý sa diskusií zúčastnil, "príjemne prekvapila otvorenosť, vecnosť a korektnosť Čiernohorcov vo verejných diskusiách". V súvislosti s postojmi ľudí, ktorí prišli hovorí: "Samozrejme, nie všetci si myslia, že by ich krajina mala byt členom NATO, ale zaujímajú sa o túto otázku, sú otvorení pre diskusiu a ďalej chcú zvažovať argumenty hovoriace v prospech začlenenia Čiernej Hory do euroatlantických integrácií." Dôležitou však bola, podľa Tomáša Sivičeka, skutočnosť, že hostia neprišli presviedčať, ale diskutovať. Podľa Wlachovského majú občania Čiernej Hory "záujem získavať čo najviac informácií o NATO, bezpečnostných opciách pre svoju krajinu a jej integračných perspektívach".
Ako dodáva, jedným z problémov získavania si dôvery Čiernohorcov môže byť vojnová skúsenosť regiónu: "Čierna Hora je súčasťou regiónu, kde nie tak dávno prebiehali vojenské operácie so všetkými tragickými následkami. To všetko je v tých ľuďoch prítomné a živé a preto je častokrát ťažké nasmerovať ich uvažovanie do budúcnosti a presvedčiť ich o potrebe naštartovania nových vzťahov s bývalými nepriateľmi. Z tohto pohľadu to bolo oveľa náročnejšie prostredie pre informačnú kampaň o bezpečnostných otázkach než na Slovensku."
Vyvrcholením slovenského projektu "Čierna Hora na ceste do euroatlantickej rodiny", ktorý z finančných prostriedkov oficiálnej rozvojovej pomoci SlovakAid pripravila Slovenská atlantická komisia, bude budúcotýždňová konferencia, ktorej sa má zúčastniť aj minister zahraničných vecí SR Miroslav Lajčák a jeho čiernohorský a bosniansky kolega.
Ďalšie informácie nájdete na stránkach: www.ata-sac.org
Slovenská atlantická komisia
http://www.24hod.sk/slovensko-uputalo-v-ciernej-hore-pozornost-medii-cl78953.html